Schedule Service
* Indicates a required field
Ford Service & Repair at Riverside Ford
Keeping your vehicle going strong is the goal of every driver. You can accomplish this when you make regular trips to our Ford service department. 
We serve Havelock with a team of highly-trained mechanics who know the inner workings of your vehicle. Our technicians have the latest tools and equipment here at Riverside Ford. With our high level of expertise, you know your vehicle is in the right hands.
With a multitude of services here, you can always keep your vehicle going. That's why we encourage you to schedule an appointment online today. You can also give us a call at (877) 830-4779. We will be happy to help you as soon as possible and keep your vehicle running at its best.
Schedule Your Service At Riverside Ford, Serving Havelock, NC And Swansboro, NC
When it comes to protecting your investment in your Ford car, truck, or SUV, nothing is more important than maintaining a regular service schedule. From oil changes to tune-ups to regular inspections, there's a lot to stay on top of to keep your Ford running optimally. At Riverside Ford, we offer a variety of car service options for those Fords needing repairs or require routine maintenance. You can even stay on top of your regular maintenance schedule and earn points using the Ford Pass app for your smartphone.
Oil Changes And Checking Out Your Vehicle
Bring your vehicle to our Havelock, NC location for an oil and filter change. When we perform routine oil service, we can check the hoses, belts, lights, battery, electrical system, and more.
Besides the oil, our team could check the transmission, differential, power steering, coolant, and windshield washer fluids. Maybe the windshield wipers require replacing. A technician can check and replace them, too.
Tires And Brakes
Tire rotations help keep tires in good shape, while tire inspections determine if you need new ones. We sell tires and install them, as well. Inquire about wheel alignments, another important service.
Ford owners need to drive on reliable brakes. Let our service department inspect the brakes to see if the hoses, lines, pads, rotors, and other parts require any work.
Car Service At Our Ford Dealership
Since we are a Ford dealership, our service technicians regularly handle all kinds of Ford models. Experience counts and our service department does have experience working on Fords. Do you have questions about OEM parts? Please ask.
Specials And Parts
Our Ford dealership wants to help Swansboro, NC customers save money on service. Check our website or call the office to learn about specials. And are you interested in Ford auto parts? Yes, we sell auto parts and accessories.
Book An Appointment
Why wait? The team awaits your vehicle. Use our online scheduler to book an appointment at a time that works for you, and be sure to check out our latest parts and service coupons.
Modern vehicles have a vast number of major differences compared to their predecessors, especially when it comes to maintenance. Maintaining your vehicle isn't nearly as intensive as it has been in the past. The Ford F-150 is the bestselling vehicle in the industry, making it the perfect model to use as an example. Here are
several major milestones
when you should have your Ford serviced.
Every 10,000 Miles
The Ford F-150 has come a long way in recent years, and while past models required servicing every few thousand miles, that's far from the case today.
Newer F-150 pickups only require an oil change, new oil filter, and tire alignment every 10,000 miles. Drivers would also do well to have the braking and cooling systems checked, and the wheels should be inspected for any issues. It wouldn't hurt to have the transmission fluid checked as well.
Every 30,000 Miles
The F-150 generally requires a new engine air filter and brake fluid every 30,000 miles. A new engine filter will ensure optimized performance while fresh brake fluid ensures maximum stopping power. Drivers should clean the mass airflow sensor at this point, as well.
Every 50,000 Miles
In addition to an oil change, new oil filter, and tire alignment, the Ford F-150 needs a new timing belt and throttle body cleaning every 50,000 miles.
Every 60,000 Miles
In addition to 10,000 and 30,000-mile maintenance, the 60,000-mile marker means it's time to flush and replace the transmission fluid.
Every 80,000 Miles
The Ford F-150 is a hard-working truck, and while lighter passenger cars need spark plugs every 100,000 miles or so, that isn't the case for this truck. The F-150 usually requires new spark plugs every 80,000 miles to ensure peak performance and capability on the road.
Every 100,000 Miles
The Ford F-150 is more than capable of reaching the 100,000-mile marker, which means drivers will need to replace the engine coolant. Doing so protects your engine from overheating.
Make a service appointment at Riverside Ford by calling (877) 830-4779!
Your privacy is important to us.
Our Dealership takes your privacy seriously and does not rent or sell your personal information to third parties without your consent. Read our privacy policy.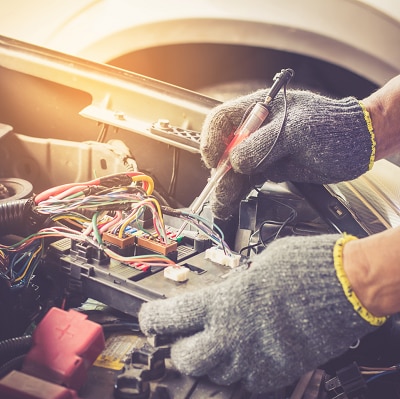 Service Hours
Monday

7:30am-6pm

Tuesday

7:30am-6pm

Wednesday

7:30am-6pm

Thursday

7:30am-6pm

Friday

7:30am-6pm

Saturday

7:30am-4pm

Sunday

Closed