Introducing the Special-Edition Ford Bronco Everglades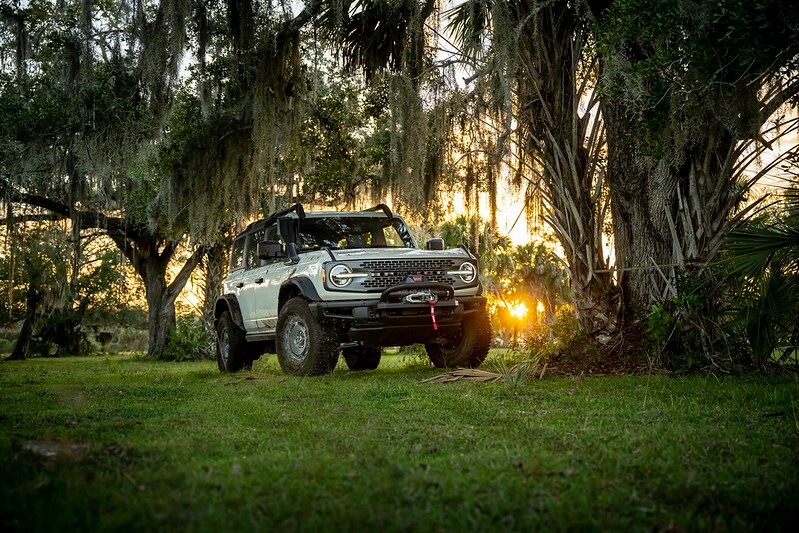 Bronco fans rejoice: Ford is poised to release a new variant called the Bronco Everglades. Though it's not set to arrive at dealerships like Riverside Ford till this summer, it's not too soon to reserve one of your own. Here's what we know so far about this exciting new Bronco.
PerCar and Driver's Connor Hoffman, the new Bronco Everglades will elaborate on the Bronco's Sasquatch off-road package. If you're not familiar with the Sasquatch, it includes elements such as front and rear locking differential and a lifted suspension, as well as a shorter final drive ratio. The Everglades variant will push the boundaries of what's capable on this Bronco, thanks to mud-terrain tires and an elevated height that gives it a water-fording depth of 36.4 inches. A max 67.8:1 crawl ratio is an added bonus.
Perhaps the coolest feature of the Everglades is its class-exclusive Ford-designed snorkel. This snorkel mounts to the passenger-side A-pillar and boosts the vehicle's performance in snow, water, and dust conditions. That means you can confidently dominate trails and weather scenarios of all sorts on your next thrill-seeking adventure in North Carolina.
Stay tuned to our blog for more details on the Bronco Everglades as we wait for its arrival here this summer at Riverside Ford in Havelock, North Carolina. Or contact us today for more information on how to reserve one of your own to make sure you can snag one while there's still plenty of time to do so.